This content has been created by Team Blockchain, an independent platform providing insight and expertise on Blockchain, Tokenomics and the Crypto market.
There is growing pressure for governments, companies and society to be more mindful about how to reduce thier carbon footprint and conduct thier lives in a more ESG- compliant manner. The US has recently invited forty of the world's governments to a two-day conference on climate change and the UK will host the UN Climate Change Conference in November 2021. Undoubtedly, our dependence on fossil fuels in the future needs to change and subsequently our reliance on renewable energy sources will increase. Indeed, as the graph below shows, over 70% of new electricity generation that is due to be constructed in the US in 2021 will come from wind and solar.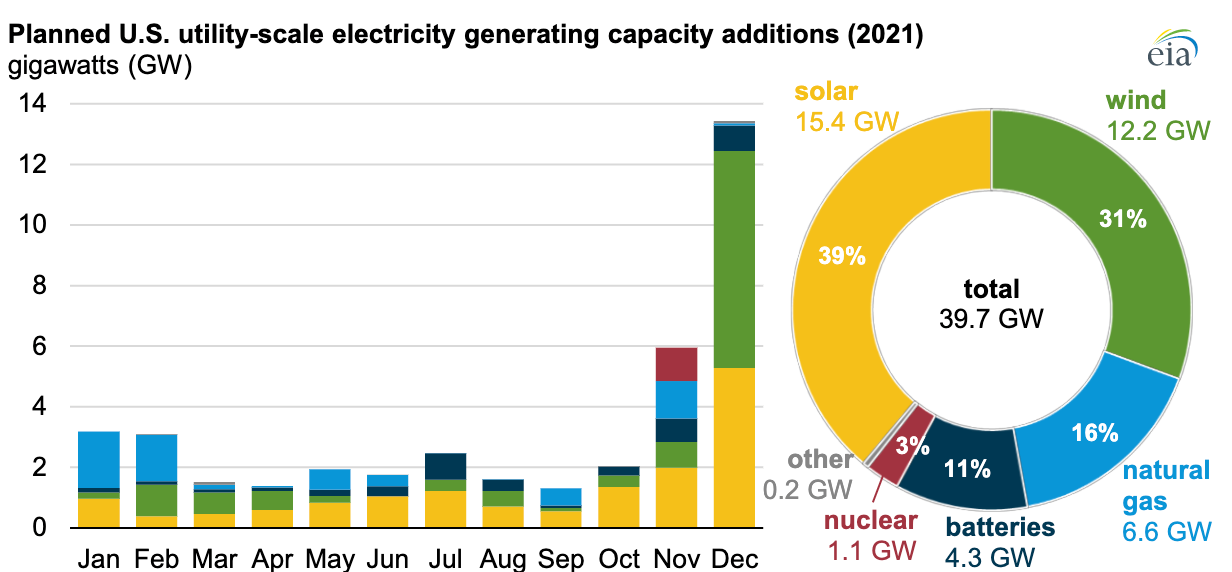 Blockchain technology is increasingly being used to enable consumers to track and trace how, and from where, their consumption of electricity comes. As companies - and now governments - commit to reducing their carbon footprint, Blockchain-powered platforms will no doubt become increasingly relied upon. As we have seen, many countries are turning away from using oil to power their homes and factories, inclining to gas instead. As a result, gas prices have risen and, according to the energy specialist, Wood Mackenzie, "spot prices for gas for at least one transaction in Asia, reaching over USD39 per million British Thermal Units. On an energy-equivalent basis, that is about the same as USD230 for a barrel of crude. Over the past nine months, north Asian spot LNG prices have risen 18-fold, even outpacing Bitcoin."
Furthermore, petrochemical firms are also changing as they come under increasing pressure from those investors favouring more ESG-centric business. Companies, such as the Norwegian oil and gas company Statoil (which has changed its name to Equinor), are now focusing on wind farms. For example, Equinor and BP have just won a bid for the largest offshore wind power award in the US to supply about 2.5 gigawatts to New York State from two offshore wind projects.
Demand for petrol and diesel peaked some time ago in a number of regions of the world - Around 2018 in the Americas, 2006 in Eurpoe, and 1997 in Oceania. In the face of falling demand for fuel from cars, vans, lorries and trucks, many of the global petrochemical companies are reducing their spend on developing new oil wells. The huge fall in crude oil prices last year due to COVID-19 has encouraged even greater spending cuts leading to a severance of 25% to 40% in capital expenditure.
However, as the world economy recovers, demand for oil has increased and unsurprisingly led to a sharp rise in oil prices - which is only going to add to greater inflationary pressures. The research firm, Gold Money.com, believes there is a close correlation between high oil prices and higher gold prices due to higher inflation. If we are to see to higher inflation, then there is a possibility that some investors, rather than buying physical gold, will buy what some call digital gold - Bitcoin.