This content has been created by Team Blockchain, an independent platform providing insight and expertise on Blockchain, Tokenomics and the Crypto market.
Several international airlines have been exploring various ways in which Blockchain technology can be used to help improve the efficiency in the way they operate:
Airlines are also using blockchain technology to help manage take-off and landing slots. The EU-funded SlotMachine consortium is using blockchain technology to develop a cost-efficient solution which will enable airlines to swap take-off and landing slots more efficiently. It is hoped that SlotMachine will allow for more optimal use of airport resources and result in fewer passenger delays. Notably, airlines will not be able to access any competitors' private data, such as what they are bidding on and how many slots the different airlines have released, but they will be able to see the slots available which best suit their incoming and out-going flights. This is another good example of how blockchain technology is enabling 'collective capitalism' - creating a system where previously competitive capitalistic organisations can securely share data they wish, for the benefit of their respective customers and the profitability of the airlines. Alongside this, French industrial conglomerate Thales is also using blockchain technology to trace those aircraft parts undergoing compliance tests. The authenticity of aircraft parts is crucial, given the need for high safety standards in the airline industry.
However, it can be of no surprise at all that it was only a matter of time before Non-Fungible Tokens (NFTs) also found their way into the airline industry - as the picture below shows.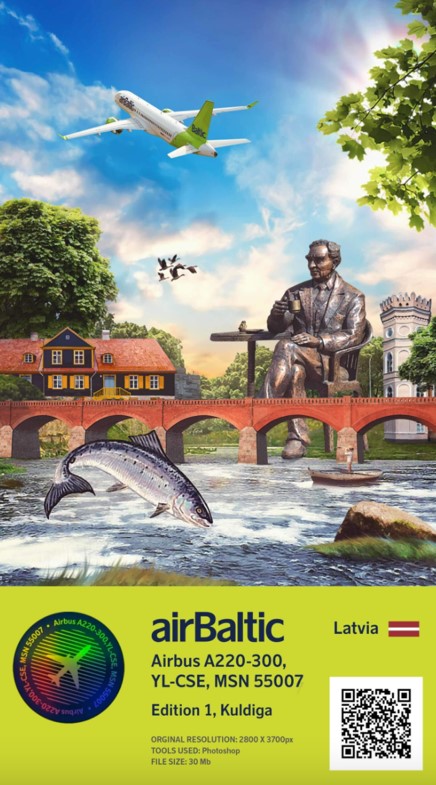 Source: airBaltic
In 2018, to celebrate Latvia's centenary, airBaltic ran a competition asking entrants to vote for their favourite Latvian towns and cities, from which the company's Airbus A220-300 fleet would be named. NFTs were to be created and issued by airBaltic of the most popular cities, starting with the city of Kuldīga. On launching the airBaltic NFT, Martin Gauss, CEO of airBaltic, said: "Blockchain technology has proven to be here long-term. After being the first airline to accept Bitcoin as a form of payment, it is the next step for us in blockchain technology to offer non-fungible tokens. NFTs are not only used for digital art transactions but may as well be expanded to tickets for concerts and other unique one-time pieces, including airline tickets. The issue of the limited collector NFTs will serve as a tourism campaign for Latvian cities, certainly still an undiscovered destination for many."
As can be seen blockchain technology is being used in diverse ways by various airlines, with the above examples being just a selection of different applications. As organisations experiment with blockchain technology, look out for an extensive collection of use cases where blockchains will be used in conjunction with other technology such as 3D printing, AI, IoT and machine learning.